Sparqa Legal is a digital law platform for UK small businesses. Our portal helps you save time, money and stress in answering legal questions and customising templates. All our legal guidance and some of our documents are free to use. You just need to register as a new user onto our free plan. We describe our free content as 'Legal Guidance'  although you may see others describe their services as 'free online legal advice'.
The term 'legal advice' is typically used to describe 1-2-1 bespoke advice, provided by a qualified lawyer to an individual or business. General information provided by an online service, even if it is written by a qualified lawyer, cannot be bespoke. These will be answers to commonly asked questions – and therefore is legal guidance rather than advice.
FREE LEGAL GUIDANCE: CLICK HERE  
All our guidance is written by top UK lawyers, in simple English without using complex precedents or legalese. The legal guidance is all online, available 24/7 and free to access. Sparqa Legal provides independent and quality legal support through:
Free Guidance: +4,000 searchable Q&As, covering 13 areas of business law
Documents: +350 customisable and auto-generated documents, contracts and policies
Legal Advice: Access to an 'Ask a Lawyer Service' to speak to an expert lawyer
Sparqa Legal is aimed at UK SMEs with a strong focus on start-ups, micro businesses and freelancers. The solution works across all industries and sectors and and is particularly relevant to businesses within Technology, PR & Media and Business Administration sectors.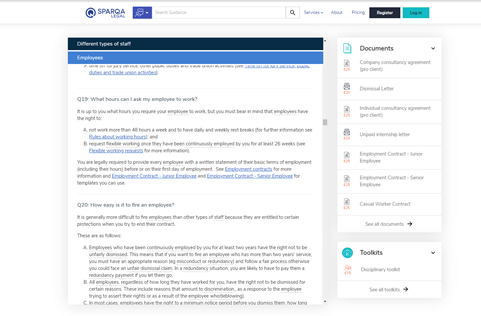 Why do SMEs go searching for free online legal advice?
All businesses have legal needs, whether it be assistance in setting up a company, ensuring proper corporate governance and decision-making, taking on (and terminating) employees and contractors, entering into commercial contracts, protecting intellectual property, ensuring regulatory compliance (eg, in relation to data protection), occupying office premises and raising finance, just to name a few.
SMEs must navigate this complex landscape in order to set up robust business structures, avoid future pitfalls, secure capital, grow and evolve within their respective markets, and respond to the many challenges, such as litigation, that arise along the way.
Unfortunately, the traditional law model drastically underserves the SME market for three key reasons:
Expensive: traditional legal services firms are too expensive for the basic needs of most SMEs. Time-based billing and poor pricing transparency, while just an annoyance for larger organisations, create a threshold problem for SMEs wanting to access legal services.
Offline, inaccessible and time consuming: traditional legal services are generally not accessible online and difficult and time consuming to access, a significant turn-off for SMEs at a time when so many aspects of running a business, such as HR and accounting, are being brought online. It seems anathema to the digital revolution that SMEs cannot address even the most basic legal needs via dedicated, online services.
Good lawyers are hard to find: in a country of over 150,000 practising lawyers, SMEs still struggle to find a experienced, specialist lawyers who are able to offer services that represent value-for-money.
Traditional legal services firms have, by and large, evolved to service larger businesses. In doing so, SMEs have been left with few options to address their legal needs.
This leaves Google as the 'legal adviser' of choice for most SMEs. It is in this scenario that SMEs will often search for free online legal advice, possibly not knowing what the difference is between advice and guidance.
Others might ask their lawyer friends and family for help, while some simply stick their heads in the sand and hope for the best.  With millions of fantastic SMEs forming the backbone of our economy, it is simply unacceptable that SMEs are forced to take serious risks with their businesses for want of appropriate solutions.
The current market also fails the law firms themselves. Innovative law firms ought to be able to attract work from anywhere in the country; geographical proximity to an SME client is no longer a pre-requisite to providing an appropriate service level. Yet, a law firm in, say, Ipswich will struggle to market itself to an SME in Liverpool. This means that firms are often restricted to obtaining work from their local area and cannot benefit from the same economies of scale that would exist if they could market more broadly. A centralised platform allowing clients to post work and lawyers to bid for it provides benefits to both parties.
Does Sparqa provide free online legal advice or guidance?
We provide legal guidance not advice on our site. We do, however, provide our users with legal advice through our offline 'Ask a Lawyer' service. Here they can instruct and speak with a qualified and experienced lawyer to help them with a bespoke problem or issue.
Our guidance currently covers the key topics and sub-topics. Guidance on each sub-topic has two components:
a high-level overview to give users a basic understanding of the subject in a short period of time; and
detailed Q&A providing users with legal and practical insights to help them navigate that area.
The expert legal guidance is provided in simple to use Q&A format. Guidance can be easily searched from an extensive database of over 4,000 legal and business answers. The guidance is amended and updated daily by a team of experienced lawyers, subject to any changes to the law.
In addition, Sparqa Legal provides legal documents, templates and checklists. There are currently over 370 internally-generated legal documents available, and this document bank is continually expanding.  Each sub-topic includes documents relevant to that area. In many cases the documents have been coded for auto-generation in the form of questionnaires. These questionnaires guide users through the process of creating a fully populated document.
We also provide a free online chat feature to help users navigate the site, understand which documents to use and where to find more information.
We provide independent and high quality legal guidance
Small businesses who go searching for free online legal services (or free online legal advice, as others refer to it) can find a mixed bag of resources from government sites to chat rooms. The key differentiators that set Sparqa Legal apart from these services are:
Quality of legal guidance: other services in the SME space tend to provide relatively basic guidance (if at all) while functioning primarily to refer users through to lawyers.  The depth and quality of the Sparqa Legal's guidance enable it to tackle the value problem head-on by enabling SMEs to solve many of their legal issues without ever needing to resort to a lawyer.
Proven, respected team: Sparqa Legal is backed by one of the leading barristers' chambers in the UK.  The product has been developed by a team of leading barristers, lawyers and software engineers with proven track record in legal tech, having developed two other successful online legal businesses:
CPDCast: CPDCast was launched in 2008 to provide legal training by podcast. The company recorded 30 minute Q&A podcasts with legal experts and made them available for download on an online platform on a subscription or individual download basis. The company received inbound interest in early 2010 and following an auction process involving three parties, sold to Informa Plc.
FromCounsel: a specialist online legal information service that launched in late 2016 and has over 75 law firm subscribers including all of the 'Magic Circle' law firms, most of the other leading UK and US law firms operating in England and the legal arms of the Big Four accounting firms. It is regarded as the most authoritative, high-quality service on English company law in the market. FromCounsel achieved a breakeven position during 2019 and will move into profit during 2020.
Sparqa Legal's Aim
We want to build the leading digital legal platform for SMEs. We want to empower SMEs to solve many of their own legal issues, produce their own high-quality legal documents, and have easy access to appropriately experienced lawyers where legal advice is required.  Ultimately, we envisage Sparqa Legal becoming a one-stop shop for small businesses to manage all of their legal needs in the easiest and most cost-effective way.
You can sign up to Sparqa Legal for free online legal advice and support. Click here to register today.