You can create legal documents in minutes using Sparqa Legal. They are simple to use, quick to complete and trustworthy. Our legal documents are thoroughly researched, written and maintained by a team of dedicated in-house lawyers. You can rest assured your completed document is reliable, up-to-date and legally binding.
Instructing a lawyer to draft you a legal contract can cost hundreds if not thousands of pounds. Using Sparqa Legal's clever auto-creation tool, you can generate a customised legal document, policy or contract from only £10+vat. For the most common legal documents such as Employment contracts, NDAs and Privacy Policies it is now possible to create these yourself without using a lawyer! Sparqa Legal helps you do to all this while saving you time, money and stress.
LEGAL DOCUMENTS: CLICK HERE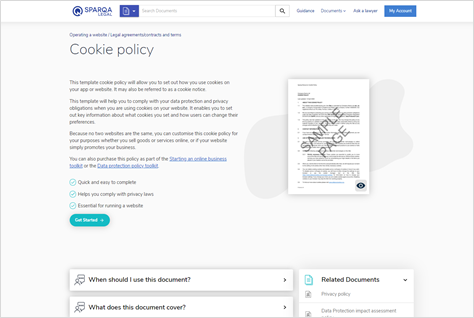 Our Legal Documents are Reliable and Trustworthy
We ensure that our documents are the highest quality and take into account the latest changes to the law. To do this, our documents go through several review stages and are continually reviewed and updated where necessary. Our in-house team of experienced business lawyers have all been drawn from leading London barristers chambers and city firms.
As our documents have been written by top lawyers, your business can enjoy the same quality legal documents as large corporates, all online and at the click of a button. We empower businesses to auto-generate their own legal documents, at a fraction of the cost of instructing a lawyer.
How it Works – Our Clever Legal Document Automation Tool
Creating legal documents is simple. We've developed a clever document auto-generation tool that enables you to create documents in minutes.
We have over 380 legal documents on our site. Sparqa Legal allows you to generate and customise legal documents such as contracts and letters (note that simple forms, guides and checklists can be downloaded straightaway since they don't require customisation). Simply fill out a questionnaire-style form and we populate the document accordingly. Then just download your new document as Word or PDF. It's that easy!
Our lawyers have done all the thinking for you and written the decisions trees which determines which sections and/or clauses are relevant – based on your answers. Our tech team have coded this into the system to ensure that your legal document will be bespoke and customised for your business.
Check out our documents library at www.sparqa.com/documents and filter by type or legal topic.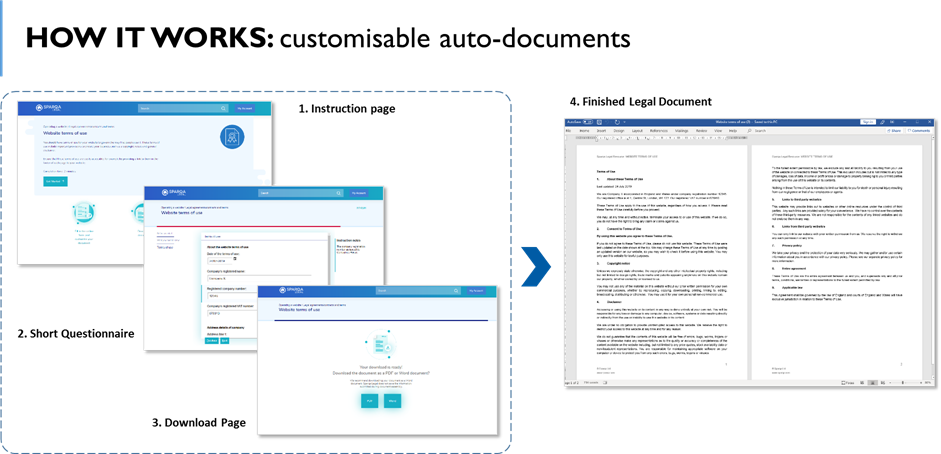 Creating Legal Documents – 5 Simple Steps
Select the correct document – this may sound like an obvious thing, but is an easy mistake to make. Legal documents have different names, abbreviations or nicknames. Also you may think you need one document but actually need another to help with your issue. Each of our documents have a clear descriptive overview with links to other documents which may be more relevant to your needs. The overview page also outlines:

When you should use the document
What the document covers
Why you need the document
Where you can find out more
We also show you a sample page of the document so you can see what it looks like when complete. You can find the document you need by using the search bar, filtering through the legal documents library, or by clicking directly from a link in our Q&A.
Get started – On the document description page, click "Get started". Our document builder tool will open. In the first step of the document customisation process, you will be shown some preliminary information on what you need to know before you use this template. Make sure to read this carefully and click "Next".
Build Document – we have built a clever legal document creation tool that allows you to build and customise you legal documents (such as contracts, agreements and policies) in a matter of minutes, simply by filling in a short questionnaire online. The simple documents (e.g. Website Terms of Use) take only 5 minutes and the more complex documents (e.g. Employment Contract) may take up to 20 minutes. Next to each question, we have provided practical guidance to take you through the process and understand what the document means to you and your business.
Save & Store – all our documents can be saved part way through or at the end. If you save part way through you'll find your incomplete document within your 'My Account' section. This can be found within 'Documents in Progress'. Here you can find, filter and store all your saved and completed documents. You can even re-edit the documents, copy them for different iterations and delete them when they are no longer required.
Download, Print and Sign – once you have filled all required information, click "Finish". Now you can choose between downloading your ready-to-use, customised document in PDF or MSWord format. After having downloaded the file, make sure to double-check the information and carefully read your final document. Then, if required, sign it and make it legal!
What type of legal documents does Sparqa Legal cover?
We have "automated" the most common legal documents that a business would need whether it be during an HR process, to support a website or to maintain confidentiality with partners. Our documents include:
legal agreements and contracts (e.g. employment contracts)
handbooks (e.g. employee handbooks)
terms (e.g. terms and conditions for your website)
legal letters, agendas, certificates and notices (e.g. letters to shareholders)
company resolutions (e.g. board minutes)
Furthermore, Sparqa Legal provides the following types of documents and additional resources for simple download (without the need to complete any forms). These include:
forms (e.g. impact assessments)
checklists (e.g. for registering your company)
comparisons (e.g. of different modes of incorporation)
lists (e.g. of legal status categories of a company)
step-by-step guides and flowcharts (e.g. on how to fill certain legal forms)
Visit our documents library to find out for yourself: www.sparqa.com/documents
What are the most popular legal documents?
We have an extensive library of over >380 documents across 13 areas of business law, some of which have been neatly grouped into toolkits.
Give it a go and try out one of our most popular documents:
How to buy Sparqa Legals' legal documents?
You can sign up to Sparqa Legal for free and pay for which ever documents you need. Documents can be purchased individually or within a toolkit. Individual documents are priced from £10+vat to £25+vat
Alternatively from only £10+vat a month you can get unlimited access to Sparqa Legal. Once you start a subscription you have unlimited access to all our legal resources and documents. You can copy them, store them and create as many documents as you need.
Click here to get started.