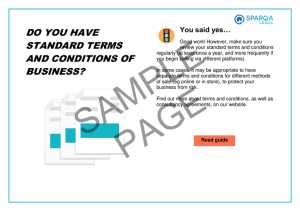 Every business is unique. They have different goals, face different challenges and have different approaches to appetite and risk. But when it comes to the legal stuff, one thing all businesses have in common is that failure to effectively manage their risks can have serious consequences. This is where a business health check can help; by identifying areas of legal concern, you can mitigate any risks, make sure you're compliant with the law and that you are implementing best legal practice in your business.
Do you know what your business's legal risks are?
If you want to properly manage and ultimately minimise them, it's crucial for you to identify what specific risks your business is exposed to. Remember that unknowns can be costly if legal problems slip under the radar. 
What is the free business health check?
It's a free tool to help you assess whether your business is in good legal health and to help you identify any weak spots. Whether you're just starting out or your business is well established, and whether or not you've incorporated your business as a company, the health check will help you manage risk across all areas of your business.
How does the free business health check tool work?
Our free business health check questionnaire asks you to answer some simple questions to generate a bespoke report telling you how well your business is doing with legal compliance. Our traffic light system will tell you where you've got the green light, and which areas have got the potential to cause problems.
* Green means no immediate action is required – you're complying with current law and best practice
* Amber means proceed with caution and further action is recommended
* Red means immediate action is required to protect your business
If your business is at risk, you'll be signposted to resources and guidance that will help you to fix the problem and set you on the right path. 
The content in this article is up to date at the date of publishing. The information provided is intended only for information purposes, and is not for the purpose of providing legal advice. Sparqa Legal's Terms of Use apply.