Sparqa Legal is the UK's premier online lawyer. Using our innovative digital platform, SMEs can manage their legal affairs without having to rely on expensive law firms. It's like having your own in-house General Counsel but online, always accessible and affordable.
ONLINE LAWYER: CLICK HERE
Our comprehensive legal answers are easy to understand, fully searchable and covers everything you need to start and run your business. There are also hundreds of legal templates, such as contracts, policies, letters and notices, ready to fill in and download. With our clever and easy-to-use document builder you can simply complete a questionnaire-style form. This enables you to customise and generate your document within minutes. Step-by-step guidance is provided throughout the questionnaire so you know what the question means and why it's important.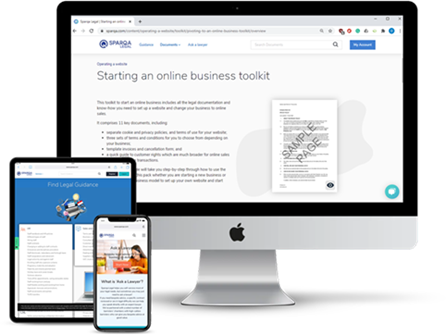 What is an online lawyer?
Traditional law firms are office-based, paper-based, slow and often too expensive for small businesses. Whilst many other industries started to move online years ago the legal professional has taken a longer time to adjust to the digital age. An 'online lawyer' or 'digital lawyer' is a legal services company that has put all the collective knowledge experienced lawyers onto a web-based platform. Sparqa Legal's aim it to help build and protect a million small businesses by giving them legal help online at an affordable price – quickly and simply.
Our in-house team of lawyers have researched and written over a million words of legal content covering over 4,000 questions and answers. If you need to find out something simple like "how do I fire an employee?" then we've got you covered! Within a couple of clicks you are there. We've outlined the key steps you need to take (in basic English) along with the documents you need to complete. Our service is delivered through a self-service platform providing reliable and practical legal information and documents to businesses in England and Wales. Our online lawyer platform provides three main functions to help SMEs manage their legal affairs:
Searchable legal guidance in Q&A (question & answer) format. To see what content and legal questions we cover and get answers to the legal questions your business might face click here
Access to hundreds of legal document templates, such as agreements, company policies and minutes. Documents can be saved, re-edited, copied and stored. Our document store has been designed to save and store all your legal documents in one safe central place.
Find and get bespoke advice from an experienced and specialist lawyer – via our online 'Ask a Lawyer' The service is fast, efficient and affordable.
Benefits of an online lawyer service
The way businesses traditionally access legal services is broken: it's overpriced, time-consuming, hard to navigate and complex, mainly offline and inconvenient. Sparqa Legal provides a self-management online lawyer solution, transforming the legal services available to all businesses.
Sparqa Legal was designed with ease of use in mind, finally making legal questions that business owners and managers face accessible to and understandable for everyone, not just business lawyers! Our content is presented in straightforward Q&A (Question & Answer) format, which is fully searchable, and in simple, jargon-free language. No more long winded answers full of technical terminology. Get straightforward, practical answers and explanations to all your legal questions, at the click of a button.
What's more, Sparqa Legal provides you with a powerful document builder tool that allows you to create and customise legal documents (such as contracts) in a matter of minutes, simply by filling in an online questionnaire. We provide practical guidance to take you through the process and understand what the document means to you and your business.
Some of the key benefits of Sparqa Legal include:
Affordable, unlimited access, without any hidden fees – saving you hundreds of pounds of legal fees per year 
Accessible online, at the click of a button – whenever and wherever is convenient for you 
Simple-to-use, practical legal guidance and smart tools – making it finally straightforward to navigate the law as a start up or SME 
Trustworthy, continually updated content and legal documents delivered by a dedicated team of top lawyers – removing the worries and risks of getting legal guidance online
Covering all aspects of running your business – providing you with a one-stop service for your legal questions and documents
Can I trust an online lawyer service?
Our answers and legal documents are written and maintained by our in-house team of experienced business lawyers drawn from leading London barristers chambers and city firms including Erskine Chambers, Freshfields, Hogan Lovells, Linklaters and Slaughter & May.
To ensure high quality and take into account the latest changes in business law, our content goes through several review stages and is continually updated.
Our executive team has a proven track record in the legal publishing and tech market. We are the team behind FromCounsel, the corporate intelligence service for lawyers which has been adopted as the trusted go-to corporate legal resource by the majority of UK law firms, including all of the "Magic Circle" firms.
Prior to FromCounsel, we founded CPDcast, which was the professional training tool of choice for tens of thousands of lawyers from leading law firms and solicitors chambers across the UK before being acquired by Informa Plc in 2010. In addition, we have partnered with the Bar Council for England and Wales to launch Juriosity, which is home to the official Bar Directory and incorporates a new legal knowledge network and self-publishing platform.
Who is Sparqa Legal's online lawyer service for?
Sparqa Legal is for anyone starting or managing a business that wants straightforward, affordable and reliable legal guidance.
Our content and documents are tailored for small businesses to larger corporates in England and Wales. Sparqa Legal covers everything from incorporating a company to dealing with HR issues and conducting marketing.
Many of the SMEs we support are early stage and 'Mom and Pop' type businesses which would need some basic legal services from the get-go. For example, we provide the legal documents needed for a new website (Privacy Policy), T&Cs for selling online, a shareholders agreement or business partnership agreement for setting up a new business with a friend.
Over 90% of our companies are micro-businesses which are less than 10 people in size – many of which are sole-traders and freelancers. The site and content has a number of sections and documents geared for these types of businesses. Our online legal lawyer service is industry agnostic but a large chunk of our clients are tech, agency and business administration firms.
How to get started with our online lawyer service
Signing up to Sparqa Legal is straightforward and quick. Simply go to our registration page and select the plan that is right for you: www.sparqa.com/register.
You can choose between our monthly and annual payment plans. Fill in some basic information about yourself and your company, enter your debit/credit card details, and you're ready to go!